The Trusted Provider of Premium Tub Remodels in the Boise, ID, Area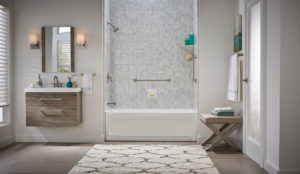 You're tired of your dingy, damaged, outdated bathtub. However, as eager as you are for a tub remodel, you might still be hesitant to move forward with the project. After all, every homeowner has heard stories about unreliable contractors who turn their customers' homes into construction sites for weeks on end only to provide unsatisfactory results. You want assurance that the tub remodel project in your Boise, Idaho, home will go smoothly and that you'll receive a great value. Rest assured, that's exactly what you can expect when you partner with Jacuzzi Bath Remodel of Boise.
Our Tub Remodel Process
Jacuzzi Bath Remodel of Boise has earned a reputation among local homeowners for providing custom, top-tier replacement bathtubs along with a seamless customer experience. You can expect:
A No-Pressure Consultation
An expert from Jacuzzi Bath Remodel of Boise will visit your home and explain all of your options. We will also bring samples of our products, so you can get a better feel for your tub remodel.
A Custom Design
Our bath designers will help you choose from a virtually endless combination of design options. For example, we offer many different styles of tubs, wall surrounds, and fixtures as well as safety and storage accessories. You can also choose from a standard Jacuzzi® tub or a luxurious hydrotherapy tub.
Fast Installation
There's no need to worry about an extended remodel causing you a major headache for days or weeks. Jacuzzi Bath Remodel of Boise can complete your tub remodel in as little as one day.
Exceptional Warranties
Because we use premium products and have manufacturer-trained experts install them, our Jacuzzi® tubs can be counted on to last. You'll also receive an ironclad manufacturer warranty, so you can have complete peace of mind in your investment.
Learn More
For more information about the benefits of choosing Jacuzzi Bath Remodel of Boise to complete your tub remodel, contact us today.