A Seamless Bathroom Remodel Process for Homeowners in Boise, ID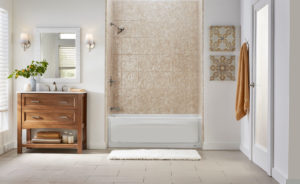 There are countless reasons to update an old, builder-grade bathtub or shower in your home in Boise, Idaho. Improved aesthetics might top your list. However, a bathroom remodel can provide so much more. Indeed, the right bathtub or shower can significantly reduce the time you spend on cleaning and maintenance, improve safety, and help you find relief from sore muscles and joints all while providing a relaxing oasis for you to escape to each day. As an authorized Jacuzzi Bath Remodel dealer, Jacuzzi Bath Remodel of Boise will help you make the most of your investment in a bathroom remodel by providing:
Custom Designs
Do you wish you had a luxurious soaking tub to where you could unwind as you listen to the soothing whir of hydrotherapy jets as they work out the tension of a long day? Or, perhaps you'd prefer a walk-in shower with a sleek and stylish design that makes bathing more accessible. Jacuzzi Bath Remodel of Boise provides custom designs for new bathtubs, showers, and tub-to-shower conversions, so, no matter your goals, we have the solution.
To help you make the most of your bathroom remodel, we'll provide a virtually endless combination of customization options. Choose an innovatively designed standard or jetted tub or a shower that can make even small bathrooms feel more open and airy. Then, select your preferred surround from myriad style and color options. You'll even be able to accessorize your Jacuzzi® tub or shower with options such as shelves, soap caddies, grab bars, seating, and more.
Fast & Detail-Oriented Installations
Jacuzzi Bath Remodel of Boise can complete your bath remodel in as little as one day, so you won't have to deal with extended interruptions to your home life. Additionally, because we are an authorized dealer for Jacuzzi Bath Remodel, you can rest easy knowing that you'll receive authentic Jacuzzi® products that are installed to exacting standards and covered by robust manufacturer warranties.
To learn more about what Jacuzzi Bath Remodel of Boise can do to improve your bathroom and your life in Boise, ID, contact us today.