Bathtub Replacement Services for Homeowners in the Boise, ID, Area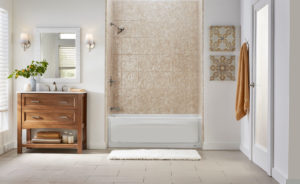 Is your bathtub outdated, damaged, or cluttered? Do you spend too much of your precious time cleaning mildew and scrubbing dingy grout lines? At Jacuzzi Bath Remodel of Boise, we believe your bathing area should be a soothing space where you look forward to spending time each day. That's exactly what we deliver. As an authorized Jacuzzi Bath Remodel dealer, we provide customized bathtub replacement services using genuine Jacuzzi® products.
Our Bathtub Replacement Solutions
At Jacuzzi Bath Remodel of Boise, we believe that your bathtub replacement should perfectly reflect your unique needs and sense of style. That's why we offer a wide array of options, making it easy to create a tub that is ideally suited to your lifestyle. Some of the features you'll get to select from include:
Wall surrounds in a wide array of colors, styles, and patterns
Bathtub fixtures, including premium upgrades, such as detachable showerheads
Storage and safety accessories, including shelves, soap caddies, grab bars, and more
What's more, Jacuzzi® bathtubs are built with premium, nonporous components that won't crack, warp, chip, or rot under normal use for as long as you own your home. A design free from grout lines and infused with antimicrobial protection also makes cleaning a breeze.
Standard & Jetted Tubs Available
Are you looking for a replacement bathtub with an elegant design that allows you to enjoy a soothing soak at the end of a long day? Our custom standard bathtubs might be the best option for you. Or, for an upgrade, choose a Jacuzzi® hydrotherapy tub. Listen to the calming whir and feel the tingle of bubbles on your skin as the jets help soothe tension and sore muscles—that's the magic of a Jacuzzi® tub.
Contact Us
At Jacuzzi Bath Remodel of Boise, we can provide your bathtub replacement in as little as one day, thereby minimizing disruptions to your home life. To learn more about the Jacuzzi® tubs we offer to homeowners throughout the Boise area, contact us today.