Impressive Bathtub Replacement Services Available to Homeowners in Boise Hills Village, ID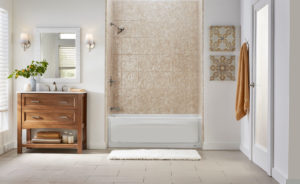 If you're tired of putting up with an old-fashioned and unsightly tub that is hard on your body and leaves you feeling more achy than refreshed, look no further than the professionals at Jacuzzi Bath Remodel of Boise. When you partner with us for a Jacuzzi® bathtub, you'll be able to take advantage of a stylish and functional new bathtub at your home in Boise Hills Village, Idaho, or a surrounding area. For example, we offer premium bathtubs, including Jacuzzi® hydrotherapy bathtubs where you can immerse yourself in the relaxing environment.
Jacuzzi® Bathtub Replacement Options
Some customization options available with your new bathtub remodel include:
Detachable faucet heads to minimize the need for movement
Safety accessories to make entering and exiting the tub easier
Ergonomic designs that support your body and allow you to relax
Hydrotherapy jets that help ease tension from head to toe
Speedy Bathtub Installations
In addition to offering luxury designs, Jacuzzi Bath Remodel of Boise bathtub replacements can be installed in as little as one day. In addition, they are protected by a manufacturer's warranty* and all installations are performed by the very best installers.
Contact Us Today!
Contact Jacuzzi Bath Remodel of Boise today to find out more about the benefits of investing in one of our bathtub replacements for your home in Middleton, ID, or a surrounding area.
*Installation and some warranty terms vary by dealer. Contact your local Jacuzzi Bath Remodel dealer for details.