Shower Conversions For Homeowners in Boise, ID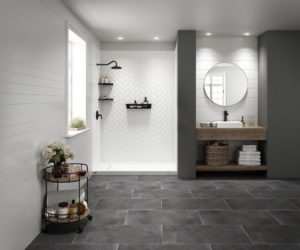 As we age, the daily needs of our household change. For example, the bathtub that was once used daily to bathe your children now may be unused. Luckily, the solution is simple—a shower conversion from the experts at Jacuzzi Bath Remodel of Boise. As an authorized Jacuzzi Bath Remodeler, we offer customizable Jacuzzi® showers with numerous optional safety features to minimize risk while bathing. We have been helping homeowners in Boise, Idaho, transform their bathtubs into sleek, beautiful, and accessible showers for years and are eager to do the same for you.
Our Bathtubs
When you partner with us for a shower conversion, our team will work quickly and efficiently, without ever sacrificing quality, to install your new shower in as little as one day. Plus, to ensure that you are in love with your new Jacuzzi® shower, we provide completely custom designs and allow you to choose from a plethora of options, including:
· Shower seating, grab bars, and other features for added safety
· Gorgeous shower surrounds in a wide selection of styles, colors, and textures
· Soap caddies, shelving, and other storage accessories
· Stunning faucets, showerheads, and glass shower doors to elevate the appearance of your bathroom
Plus, our Jacuzzi showers are made from virgin acrylic that won't warp, crack, chip, or rot under normal use, so you can be sure that your shower will last for years to come.
Let's Get Started!
Are you interested in learning more about our shower conversion services? Contact Jacuzzi Bath Remodel of Boise today to schedule a complimentary consultation at your Boise, ID, home. Our knowledgeable staff will be more than happy to answer any questions you may have regarding our products or installation services.