Tub-to-Shower Conversions Available to Homeowners in Boise Village, ID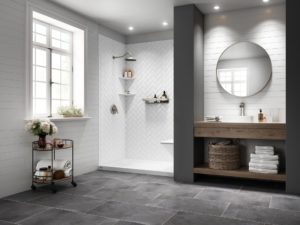 While long baths can be a very relaxing experience, they simply aren't for everyone. Even though tubs and showers can coexist, a bathtub may not always be the most logical solution if it is going unused or there are safety concerns in the home. If you never use your bathtub or are looking for a more accessible option, it's time to look into tub-to-shower conversions. The tub-to-shower conversions offered by the professionals at Jacuzzi Bath Remodel of Boise are the perfect solution for Boise Hills Village, Idaho, homeowners who are ready to create a more sleek, modern, and safe atmosphere in their bathroom.
Convenient Tub-to-Shower Conversions from Jacuzzi Bath Remodel of Boise
Whether you're a homeowner who is looking for a shower for convenience or desires a shower option for the safety features, tub-to-shower conversions are designed to suit your needs. Jacuzzi Bath Remodel of Boise offers tub-to-shower conversions that are completed with a wide array of customization options. In fact, you can build your shower with the choice of:
Low-entry shower bases
Wall surrounds that are manufactured from durable materials that are low maintenance and available in a wide array of colors, patterns, and textures
Glass shower doors, in either a pivoting or sliding configuration
Built-in accessories such as baskets, grab bars, seating, shelves, and more
Contact us Today!
For more information about the tub-to-shower conversions that we offer to homeowners in Boise Hills Village, ID, and the surrounding areas, contact Jacuzzi Bath Remodel of Boise today. When you do, make sure to ask about our one-day remodels so that you can enjoy your new bathroom as soon as possible.