Bathroom Remodel Services in Eagle, ID, That You Can Trust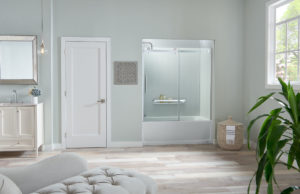 Is your current bathroom looking a little worse for wear? Do you fantasize about having a brand-new, gleaming bathtub or shower installed that you actually look forward to using every day? If so, turn to the professionals at Jacuzzi Bath Remodel of Boise. We offer expert bathroom remodel services to homeowners in the Eagle, Idaho, area who want the very best. You can count on us for an:
Unbeatable Selection
We are proud to offer several different bathroom remodel products and services, including replacement bathtubs, replacement showers, accessible showers, tub-to-shower conversions, and more. The Jacuzzi® products that we install are masterfully crafted to provide a bevy of benefits, including exceptional durability. Made of hardwearing materials, these baths and showers won't crack, chip, peel, fade, or stain under normal use, and they'll also remain resistant to the growth of mold and mildew. Furthermore, you'll be able to customize your new products down to the last detail, everything from an array of aesthetic options to functional features such as grab bars and bench seating.
Expert Installation
We know that your products will only look and perform as intended if they're installed properly. That's why we ensure that highly trained, skilled, and meticulous professionals will complete your bathroom remodel expertly the first time. The best part? These professionals can often complete installations in as little as one day!
If you'd like to find out more about the top-of-the-line bathroom remodel services that we offer to homeowners in the Eagle, ID, area, give the helpful team at Jacuzzi Bath Remodel of Eagle a call today.