Reputable Bathroom Remodeling Contractors Serving Homeowners in Meridian, ID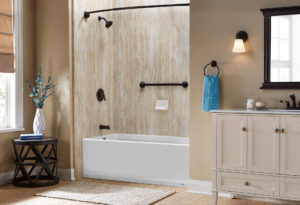 Do you have specific goals you want to achieve with the bathroom remodeling project at your home in Meridian, Idaho? Do you want a functional walk-in shower that enhances style and safety? Or, perhaps you'd prefer to create an at-home oasis with a bathtub where you can relax while soaking away stress and sore muscles.
No matter what you wish to create, it's important that you receive durable and beautiful products that are installed with expertise. That's where Jacuzzi Bath Remodel of Boise comes in. As the area's premier bathroom remodeling contractor, we install genuine Jacuzzi® products that represent the pinnacle of innovative bathtub and shower engineering. And, we can complete installations to the highest standards in as little as one day.
Custom Bathroom Remodeling Solutions
When you select Jacuzzi Bath Remodel of Boise instead of any other bathroom remodeling contractors, we will provide you with an impressive Jacuzzi® bath system that you'll fall in love with over and over again. We offer:
Tub-to-shower conversions – Transform your outdated bathtub into a sleek walk-in shower that will minimize the risk of slips and falls when entering and exiting the bath.
Bathtub replacements – Choose a premium soaking tub or a Jacuzzi® jetted tub that provides soothing hydrotherapy that promotes physical and mental wellness.
Shower replacements – The luxurious Jacuzzi® showers we offer are made to be sleek and stylish and can be upgraded with additional safety features.
Contact Us Today!
Contact Jacuzzi Bath Remodel of Boise today to schedule a free consultation at your home in Meridian, ID. You'll soon see what sets us apart from other bathroom remodeling contractors in the area.