Jacuzzi® Bathtub Installation Services Available to Homeowners in Meridian, ID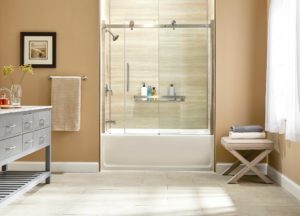 Jacuzzi Bath Remodel of Boise offers both luxurious standard bathtubs and jetted bathtubs that provide hydrotherapy relief to tired achy muscles and soothe tension. Both types are manufactured by Jacuzzi® which is unmatched in quality, durability, and has more than 65 years of innovation and prestige. If you're looking to bring simple luxury to your bathroom, a standard Jacuzzi® bathtub will certainly turn heads and elevate your bathing experience. However, if you're looking to add your own hydrotherapeutic spa experience to your bathroom, a Jacuzzi® jetted bathtub will not only exceed your expectations but will offer priceless health benefits.
Impressive Bathtub Installation Team
Our team of professional bathroom remodeling contractors and designers at Jacuzzi Bath Remodel of Boise will help you design your own custom bathtub. Here are a few of the customization options we offer:
Unique ergonomic configurations
Detachable faucet heads
Controllable hydrotherapic jets
Safety accessories
And more
In addition, Jacuzzi® bathtubs are built with premium, nonporous components that won't crack, chip, warp, or rot under normal use. A design free from grout lines and infused with antimicrobial protection also makes cleaning a breeze.
Let's Get Started!
Contact the expert bathroom remodeling contractors at Jacuzzi Bath Remodel of Boise for your next bathtub remodeling project. With so many customization options to choose from and the unmatched quality and durability of our Jacuzzi® products, your muscles will be tension-free for years to come. Get started today.