Bathtub Replacement From Meridian's Trusted Remodeler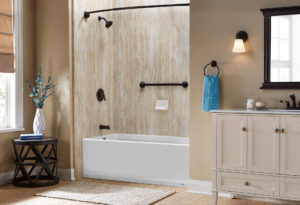 The secret to relaxation at your home is to create a peaceful environment with stress-relieving features for comfort. A bathtub replacement from Jacuzzi Bath Remodel of Boise can provide your home with just this by offering some of the most relaxing bathtubs and efficient tub replacements to Meridian, Idaho, homeowners – helping you unlock a relaxing environment at your home.
Tub Replacements That Suit Your Needs
Jacuzzi Bath Remodel of Boise bathtub replacements will allow you to create a truly relaxing environment at your home. Soaking and relaxing in one of our bathtubs will help you decompress after a long day and thanks to the unique designs of our tubs – including jetted and walk-in – you'll be able to create the ideal solution for your needs. Customized to suit your needs, our tub replacements feature:
Safety accessories that are designed to help you easily and comfortably enter and exit the bathtub
Ergonomic configurations to support your body for maximum comfort and long, relaxing soaks
Hydrotherapeutic jets that can be controlled for head-to-toe relaxation
Detachable faucet heads, in a range of styles, to help you rinse those hard to reach areas without the struggle
Speedy Bathtub Installations
In addition to offering luxury designs, Jacuzzi Bath Remodel of Boise bathtub replacements can be installed in as little as one day. In addition, they are protected by a manufacturer's warranty and all installations are performed by the very best experts.
Let's Get Started!
Contact Jacuzzi Bath Remodel of Boise today to learn more about the benefits of investing in one of our bathtub replacements for your home in Meridian, ID.