Outstanding Walk-in Showers Available to Homeowners in Meridian, ID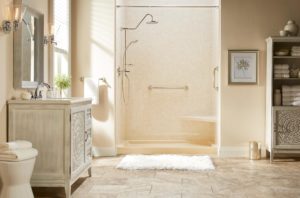 Taking a shower should be a routine comfort, not something that demands effort or causes anxiety. For homeowners planning to age in place or who have mobility restraints, showering isn't always as relaxing as it should be. The solution? A walk-in shower system installed by Jacuzzi Bath Remodel of Boise. Designed with easy-to-access, barrier-free entries, these showers are precision designed to provide a more comfortable bathing solution for homeowners in need of a low-entry, premium system.
Enjoy a More Comfortable Barrier-Free Shower
Walk-in showers are dominating bathroom designs thanks to their streamlined profiles and evergreen engineering that works for all stages of your life. The low-entry access point will create the illusion of more space in your bathroom and make accessibility a breeze. This unique aspect of our walk-in showers makes them ideal for anyone who struggles with mobility restraints or who is planning to age in place. What's more, Jacuzzi Bath Remodel of Boise's walk-in showers can be customized with unique components like:
A repositionable and removable shower seat
Strategically placed grab bars and handrails
Easy-to-clean, antimicrobial wall surrounds (customized in a variety of textures, colors, and heights)
Handheld, wall-mounted, or rain showerheads
When you partner with the pros at Jacuzzi Bath Remodel of Boise, you won't have to wait weeks on end for your shower replacement. Our installers will professionally and efficiently install your new walk-in shower in compliance with the latest manufacturer guidelines and the industry's best practices. In most cases, we can complete the project in as little as one or two days.
Reach out to Jacuzzi Bath Remodel of Boise today to find out more about our walk-in showers and other bathroom remodeling products.