Bathtub Installation Services You Can Rely On In Middletown, ID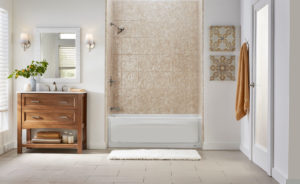 Imagine if you could have an amazing spa-like experience, like a soak in a jetted bathtub, right in the comfort of your own home. With a bathtub installation from Jacuzzi Bath Remodel of Boise, it's possible! As an authorized Jacuzzi Bath Remodel dealer, in Middleton, Idaho, we can ensure that you are getting genuine Jacuzzi® products when you upgrade your bathroom with a new bathtub. Our Jacuzzi® bathtubs will allow you to enjoy a more relaxing bathing experience and improved aesthetics along with easier maintenance and enhanced safety.
The Benefits of Our Bathtubs
Our bathtubs for sale have ergonomic designs to better support your body and can be customized to include features such as hydrotherapy jets to soothe aching muscles, safety accessories to improve accessibility, and more. But the benefits don't end there, our bathtubs are also:
• Durable – Jacuzzi® bathtubs are made from virgin acrylic, that won't crack, warp, chip, or rot.
• Customizable – You'll be able to choose from a wide selection of gorgeous surrounds, modern fixtures, and features to make bathing safer.
• Easily maintained – The nonporous acrylic our bathtubs are made from is easily kept clean.
• Quickly installed – You'll be able to enjoy your new bathtub as soon as possible because Jacuzzi Bath Remodel of Boise can complete your installation in as little as one day.
Together, we can custom design a Jacuzzi® bath that will perfectly suit all your needs and preferences.
Contact Us Today!
Contact Jacuzzi Bath Remodel of Boise today to learn more about our bathtub installation services. We proudly offer design consultations right at your Middletown, ID, home with our knowledgeable and friendly team.