Custom Shower Remodel Options Available to Homeowners in Middleton, ID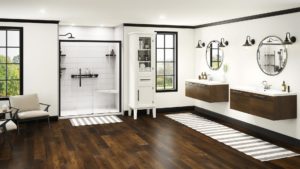 If you're looking for a company to provide a shower remodel at your home, look no further than the experts at Jacuzzi Bath Remodel of Boise. We offer shower remodel options that combine sleek designs with low-maintenance features to help you create a more relaxing space at your home. The showers we offer are customized to the needs of homeowners in Middleton, Idaho, and the surrounding areas and will instantly enhance your home in terms of aesthetic and functional appeal.
Outstanding Shower Remodel Ideas
Unlike traditional showers, Jacuzzi Bath Remodel of Boise shower systems can be customized to your heart's content. The limit of design ideas for your shower remodel is virtually nonexistent when you partner with our bathroom remodeling specialists. From base to showerhead, you'll have complete control over the look, organization, and functionality of your new shower. Some of the options you'll be able to select from include:
Accessories – To truly customize your shower system, we offer a range of built-in accessories like shelves, baskets, lockers, shower seating, and grab bars.
Showerheads – You'll be granted the option of choosing from handheld, wall-mounted, or rainhead showerheads.
Wall surrounds – Our wall surrounds can be crafted in various heights, textures, colors, and patterns. You can also opt for accent panels and edge trim.
Shower bases – Our shower bases come in a wide array of colors, finishes, sizes, and shapes, which include traditional and low-entry models.
Shower doors – Our showers can be outfitted with either pivoting or sliding glass doors for an easy clean.
Contact Us Today!
Enjoy the benefits of a personalized shower remodel in your Middleton, ID, home by reaching out to the experts at Jacuzzi Bath Remodel of Boise today.