Impressive Walk-in Showers Available to Homeowners in Middleton, ID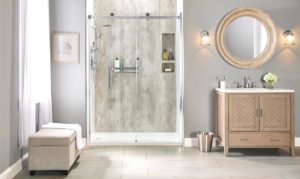 The bathroom is the cornerstone of our morning and evening routines. If accessing the shower has become a dangerous task or your bathroom is making it difficult to complete your daily rituals, installing a walk-in shower could be the perfect bathroom remodeling solution. And, for homeowners in Middleton, Idaho, some of the best low-entry shower systems can be found at Jacuzzi Bath Remodel of Boise.
Benefits of a Low-Entry Shower System
Traditional shower systems generally feature a ridged base that physically creates an elevated barrier between the floor of the bathroom and the shower itself. This design is not only disjointed, making the bathroom feel more confined than it actually is, but it's also a risk for homeowners with mobility issues. Walk-in showers do away with this ledge, creating a seamless transition between the bathroom floor and the shower base. The result is a beautiful functional design that favors both contemporary aesthetic and aging-in-place designs.
Jacuzzi Bath Remodel of Boise walk-in showers are customizable and feature:
Elegant and functional seating options that can fold up or down
Easy-to-clean, antimicrobial wall surrounds that can be customized in a variety of textures, colors, and heights
Strategically placed grab bars
Modern shower doors in pivoting and sliding configurations
Contact Us Today!
If you're ready to upgrade your current shower system to a walk-in shower, contact Jacuzzi Remodel of Boise today to learn more about the bathroom remodeling services we offer homeowners in Middleton, ID.