Shower Conversion Services You Can Rely on in Nampa, ID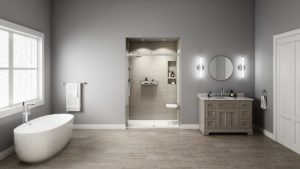 It's normal for the needs of a household to change over time. The bathtub that was once used daily may go untouched for weeks at a time now. If this is the case in your Nampa, Idaho, home, a shower conversion from the experts at Jacuzzi Bath Remodel of Boise may be just what you need. As an authorized Jacuzzi Bath Remodel dealer, we can ensure that you are getting genuine Jacuzzi® products when you upgrade your bathroom with a shower conversion. Over the years we have earned a glowing reputation for our high-quality products and superior installation services and we are eager to work with you next.
The Benefits of Our Shower
We proudly offer customizable Jacuzzi® showers with a variety of additional safety features, such as grab bars and shower seating, to minimize risks in the bathroom. Our gorgeous showers offer are known for their:
Durability – Jacuzzi®showers are made from virgin acrylic, which won't crack, warp, chip, or rot.
Beauty – You'll be able to choose from a wide selection of gorgeous surrounds, modern fixtures, and features to make bathing safer.
Ease of maintenance – The nonporous acrylic our showers are made from can be easily kept clean thanks to antimicrobial protection.
A Quick Installation – We work quickly and efficiently, completing the installation of your new shower in as little as one day.
Plus, you can rest assured our highly trained staff will ensure minimal interruption to your daily routine while performing your shower conversion.
Get Started Today
Interested in learning more about our shower conversion services? Contact Jacuzzi Remodel of Boise today to schedule a complimentary consultation right at your Nampa, ID, home with our knowledgeable team. We look forward to working with you.