Shower Replacement for Homes in the Boise, ID, Area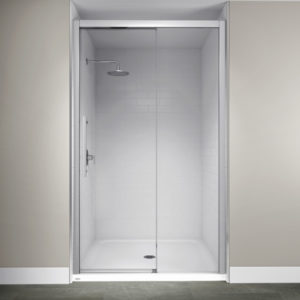 Are you tired of having to spend time and energy scrubbing dingy grout lines in your shower walls? Is your current shower outdated, cramped, and cluttered? A shower replacement from Jacuzzi Bath Remodel of Boise is exactly what you need. We are a name that local homeowners know and trust, providing showers that are:
Exceptionally Durable
Made with premium materials, including nonporous virgin acrylic, Jacuzzi® showers will never crack, warp, chip, or rot under normal use for as long as you own your home. In fact, our showers are backed by a limited lifetime warranty.
Easy to Maintain
Jacuzzi® showers feature nonporous acrylic bases and wall surrounds without grout lines, so keeping them clean is easy. Plus, your replacement shower will feature antimicrobial protection to inhibit mold and mildew growth.
Customizable
Your shower replacement should reflect your unique needs and tastes. With Jacuzzi Bath Remodel of Boise, you'll work with an experienced designer who will help you choose from many different options, including shower fixtures, storage accessories, and more. Additionally, with wall surrounds available in many different colors, styles, and textures, you can create a look that you love.
Safe
Jacuzzi® showers have low-threshold entries that make it easier to enter and exit the bathing area. They can also be equipped with additional safety features, including grab bars and seating to make the shower more accessible for individuals with limited mobility.
Get Started Today
Jacuzzi Bath Remodel of Boise is an authorized Jacuzzi Bath Remodel dealer. So, when you partner with us for a shower replacement, you can be sure that you'll receive genuine Jacuzzi® products and that they will be installed with the utmost precision and care in as little as one day. To learn more about what makes us one of the most trusted shower replacement contractors serving the Boise, ID, area, contact us today.