Stylish & Accessible Walk-in Showers for Homeowners in Boise, ID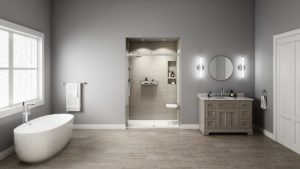 Walk-in showers are becoming more and more popular among homeowners in Boise, Idaho, and for good reason. Unlike traditional tub and shower combos, a walk-in shower has a low threshold, which makes entering and exiting the bathing area much safer, especially for those with limited mobility. And, a new shower provides an immediate boost in visual appeal by making the bathroom feel more sleek and spacious.
For homeowners looking to make the most of their investment in walk-in showers, hiring Jacuzzi Bath Remodel of Boise is the best choice. We can help you design a shower that is uniquely your own and install it in as little as one day.
Customizing Your Walk-In Shower
With so many options to choose from, it's easy to design a walk-in shower that you'll love spending time in every day. Create a look that you adore by selecting from many different styles of wall surrounds, shower fixtures, glass shower doors, shower bases, and more. Plus, you can add accessories that enhance safety, including grab bars, shower seating, and detachable showerheads.
Additionally, Jacuzzi® walk-in showers are built to perform from durable, nonporous surfaces that resist mold and mildew and won't crack, warp, chip, or otherwise deteriorate under normal use for as long as you own your home. Say goodbye to scrubbing stubborn grout lines. Your shower will be easy to keep clean and will look as good as the day it was installed for decades.
Schedule a Consultation
Are you ready to design the walk-in shower you've always wanted in your home in Boise, ID? Contact Jacuzzi Bath Remodel of Boise today to schedule your free consultation.