The Premier Bathroom Remodeling Contractors Serving Meridian, ID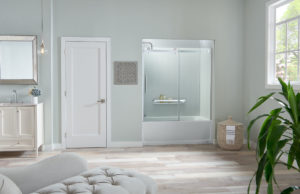 Is there a bathroom in your Meridian, Idaho, home that you're eager to update? Perhaps you're tired of scrubbing dingy grout lines and mildew from your tub or shower. Or, maybe you simply want to create a more relaxing bathing space where you can unwind after a long day. Jacuzzi Bath Remodel of Boise is the bathroom remodeling contractor you can trust to provide results that you'll love. As the local authorized Jacuzzi Bath Remodel dealer, we install genuine Jacuzzi® bathtubs and showers that represent the culmination of more than 50 years of innovative engineering.
Stylish & Functional Bathroom Upgrades
As your bathroom remodeling contractor, Jacuzzi Bath Remodel of Boise will create a bathing space that is ideally suited to you. For example, we provide premium bathtubs, including Jacuzzi® hydrotherapy tubs where you can listen to the soothing whir of air jets as you soak away your stress. We also install walk-in showers with low thresholds. In addition to creating a more open and inviting atmosphere, our showers can make your bathing space much more accessible. In fact, a tub-to-shower conversion from Jacuzzi Bath Remodel of Boise is one of the best ways to make your bathroom safer.
You can further customize your bathroom by choosing from a virtually endless combination of options, including:
Storage accessories, such as soap caddies and shelves
A variety of stylish wall surrounds available in many different colors and patterns
Safety features, such as grab bars and shower seating
Many different fixtures, including detachable showerheads
Several beautiful shower door styles
Learn More
When you choose Jacuzzi Bath Remodel of Boise as your bathroom remodeling contractor, we'll make the process seamless and enjoyable. Our bathroom designers will take the time to explain all of your options to ensure you get exactly what you want from your project. And, we can complete the installation in as little as one day, so you won't have to deal with extended interruptions to your home life.
Contact Jacuzzi Bath Remodel of Boise today to start the process of transforming a bathroom in your Meridian, ID, home.